Sense Traffic Pulse™ are cost-effective and easy-to-deploy Intelligent Video Analytic solutions based on computer-vision, copyrighted & patented coherent motion regions algorithm, software and partnered solutions featuring field-proven image processing technology which extracts the video meta-data.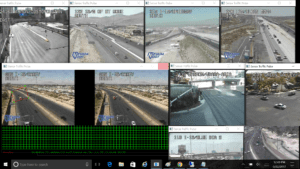 Our easy to Launch and use On Demand Intelligent Video Analytics software solutions can be deployed on running Linux Ubuntu or Windows Servers.
---
Intelligent Video Analytics (IVA) also referred to as Video Content Analysis (VCA) and Video Analytics (VA). IVA automatically analyzes the video stream and extracts meta data or useful information from images such as counting objects, colors, sizes and speeds. The typical applications are video motion detection, video pattern matching and auto tracking.
In today's world of increase security and surveillance cameras are increasingly use to watch broader areas within public and private facilities closely. IP technology enables building open, reliable and scalable surveillance systems. While video data is increasing, one person can only watch a limited amount of video data. People quickly lose their ability to concentrate and suspicious movements on the screen are frequently overlooked. Intelligent Video Analytics works 24 hours a day improving surveillance accuracy and effectiveness.
Reviewing hours of video from dozen of cameras was hard, labor-intensive and time-consuming work. Now, Intelligent Video quickly analyzes a large amount of video data. Intelligent Video is clearly useful for surveillance and business but was expensive and complicated due to requiring high-performance servers and dedicated software.
New ways to use Intelligent Video Analytics is to utilize the video meta data for business and public safety. Now, Intelligent Video quickly analyzes a large amount of video data and reveals big data to all types of users.
Sense Traffic Pulse provide cost-effective and easy-to-deploy on-demand Intelligent Video solutions based on our patented and copyrighted algorithm and partnered with Amazon AWS and Google Cloud Platform integrated cloud solutions. These AI and Machine Learning solutions feature field-proven Ai image processing technology extracts video metadata into a gold mine.
Video media contains valuable information for improving marketing effectiveness, ecommerce & retail operations, building layout designs, traffic patterns, public safety, smart cities and more.
Sense Traffic Pulse™ are cost-effective, scale-able and rapid-to-deploy video content analysis solutions which turns video and media into a gold mine. Get Big Data from Live and Recorded Media and Video.
Sense Traffic Pulse™ is a Member of the Intel® IoT Solutions Alliance. A global ecosystem of more than 800 industry leaders, the Alliance offers its Members unique access to Intel® technology, expertise, and go-to-market support—accelerating deployment of best-in-class solutions. On Demand Intelligent Video Analytics for AI, Internet of Things (IoT) & Machine Learning.
Dace IT℠ - Empowering customers with computer vision, coupled with artificial intelligence and  Machine Learning for On-Demand Intelligent Video Analytics & Media Analysis solutions that detect, analyze, count, engage and work with IoT.